Expansion of BLT's Xilinx Training Area
BLT is a Xilinx Authorized Training Provider (ATP) and has been teaching Xilinx classes throughout the US and in the Northeast region for more than a decade. BLT's region has, until now, included Maryland, Pennsylvania, New York, New Jersey, Delaware, D.C. and Virginia. We're proud to announce that our Xilinx training territory is now expanding into West Virginia and Kentucky.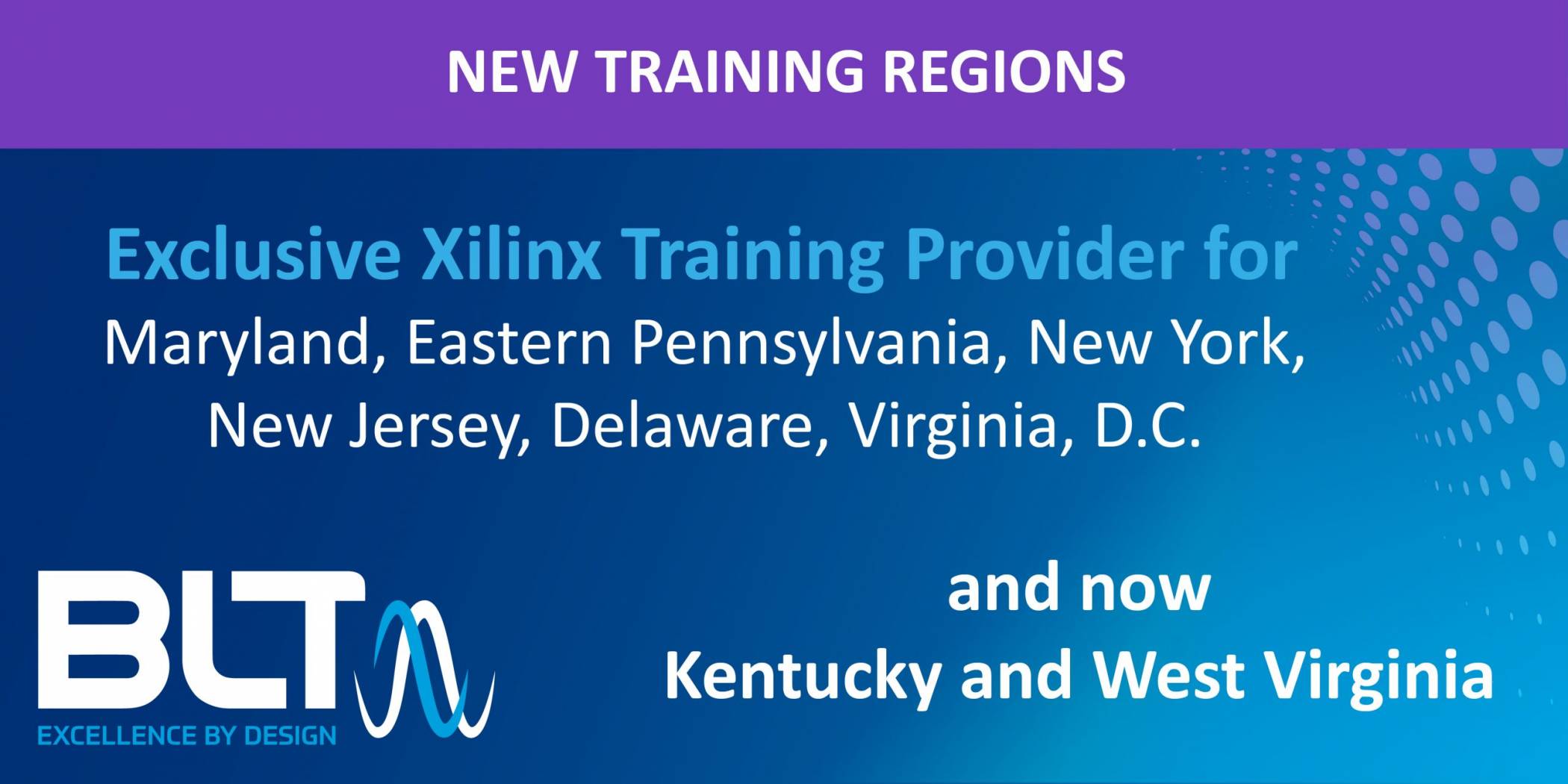 What Does That Mean for West Virginia and Kentucky?
Previously, Vai Logic, who no longer offers training, conducted both Kentucky and West Virginia training. Despite the change in training providers, Kentucky and West Virginia will continue to have access to high quality, official training through BLT. Additionally, BLT offers a full suite of updated Xilinx courses, taught both in person and online. Hardware and software FPGA engineers in Kentucky and West Virginia using Xilinx FPGAs or SoCs will be able to expand their knowledge base on topics ranging from FPGA design, to DSP, Vitis, Vivado, Versal, and much more. BLT even offers an exclusive course for Xilinx managers. And what's more, BLT stands out from the crowd of ATPs when it comes to training. Our classes are taught by engineers, for engineers. We bring real-world experience with Xilinx products and tools to our training.
NOTE: Due to the ongoing pandemic, all courses are currently being offered online. In-person training will resume when it is safe for our students and training engineers.
How to Schedule Xilinx Training for West Virginia and Kentucky
For companies and engineers in West Virginia and Kentucky looking for Xilinx training, it's very easy to connect with BLT to schedule classes. BLT offers a complete course catalog, which is available on our website. General classes, as well as private classes, are offered. Students can register online or reach out at 1-888-XILINX-1.
About BLT Training
BLT (Bottom Line Technologies) began their relationship with Xilinx in the 1980s and continues to work closely with Xilinx, both as an Authorized Training Provider (ATP) and as a Certified Alliance Member for our design services. BLT design services projects range from commercial to industrial and military/IC Clients. We bring our breadth of experience from the many industries we serve into our training classes. Our training engineers use real-world experience in their classes, using actual anonymous client situations to illustrate design and development techniques and best practices. BLT has trained more than a thousand engineers on FPGAs and in the art of FPGA design, SOC design and much more.
About AMD Xilinx Inc.
Xilinx, the inventor of the FPGA, programmable SoCs and the ACAP, creates adaptable computing solutions that drive innovation. Xilinx has more than 60,000 customers worldwide, serves many types of industries including aerospace, medical, broadcast, 5G and wireless, and holds more than 4000 patents.
In 2020 AMD announced they were acquiring Xilinx. According to AMD, "The acquisition brings together two industry leaders with complementary product portfolios and customers. AMD will offer the industry's strongest portfolio of high-performance processor technologies, combining CPUs, GPUs, FPGAs, Adaptive SoCs and deep software expertise to enable leadership computing platforms for cloud, edge and end devices. Together, the combined company will capitalize on opportunities spanning some of the industry's most important growth segments from the data center to gaming, PCs, communications, automotive, industrial, aerospace and defense." The new AMD Xilinx company will be the industry leader in high performance computing.
Learn more about Xilinx. Learn more about AMD.
About AMD Xilinx Training
Xilinx Inc offers a full suite of classes, from novice to advanced, to help engineers quickly come up to speed on the latest Xilinx technology and tools. They offer everything from designing FPGAs, SoCs and ACAPS, to understanding AI, Vitis, Versal, Alveo accelerator cards, and the Vivado Design Suite. Xilinx offers on demand classes, as well as live instruction (both online and in person) provided by ATPs, like BLT.