Industry trade shows and conventions are always an exciting chance to get out of the office and explore new applications for FPGA technologies. Plus, we get to meet new prospects and connect with old friends.
 This March, BLT team members got to attend two events exploring new horizons in technology (literally and figuratively)—one in our own backyard and one in sunny Miami, FL.
SATELLITE 2022
A short drive down I-95 took us to SATELLITE 2022, held at the Walter E. Washington Convention Center in Washington, DC, March 21–24.
For more than 40 years, the SATELLITE Conference and Exhibition has connected and united the satellite industry, paving the way to new frontiers in space and technology. It's also the year's largest business gathering, innovation platform and media event focused on the satellite industry. It touches on all things satellite-related across diverse markets—including telecommunications, broadcasting, media and entertainment, the aviation and maritime fields, government and military applications, and much more.
At the invitation of a Client exhibiting at the show, BLT President Ed McCauley, and members of our sales and marketing teams spent a day circulating through the Expo Hall. The convention center is massive and SATELLITE 2022 used the space to great effect, deploying entire actual satellites in the hall. There were some staggering examples of new LEO (low earth orbit) and MEO (medium earth orbit) systems. The booths were also exceptional, with the very latest innovations on display.
Lots of the big players you'd expect were there—Lockheed Martin and Northrup Grumman, for instance. But we especially enjoyed meeting and talking to smaller companies who may not be in the headlines, but who are nevertheless making bold strides in space. It was also an ideal chance to connect with Clients we hadn't gotten face time with recently.
All in all, we had an excellent time, saw some truly stunning technologies and are excited to return in 2023.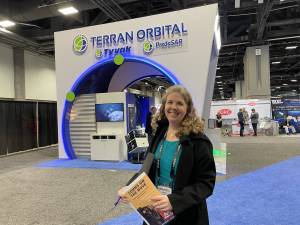 GOMACTech 2022
The GOMACTech Conference is an event with a long and storied history, dating all the way back to 1968. Originally established to help the Defense Department and its private partners come review developments in microcircuit applications for government systems, it has expanded to cover all manner of advances in microelectronic technologies.
This year's conference was held at the Hyatt Regency Miami in Miami, FL, also from March 21–24. BLT team members from our sales and engineering teams flew down to meet and mingle with some of our current Clients, and then investigate all the show had to offer.
A key highlight for us was the talks on FPGA assurance and what the microelectronics challenges and concerns are for the government. The panel discussions offered a great overall snapshot of where the industry is and a look at the government's roadmap for the future.
We also met with a number of vendors we're excited to build relationships with, as well as several manufacturers who are pushing the FPGA industry forward. And the various receptions and socials were an ideal chance to meet up and brainstorm with our Clients face-to-face instead of over email and Zoom.
GOMACTech was a powerful reminder of what the DOD and private industry can achieve working together, and we're definitely excited to return in the future.
But, wait! There's more!
Fort Meade Alliance
In June our sales and marketing folks attended Business in a Minute, sponsored by the Fort Meade Alliance. The event included over 220 small businesses and over 650 "speed dates"! The format of the event includes 15 minute meetings between businesses…aka "speed dates." Our team members made some great new connections. They also reconnected with many folks we already know.
Another rousing success for our teams!
MadWorld 2022
You never know where BLTers will turn up! Also in June we attended MadWorld in Austin, TX. MadCap hosts this event every year for users of their software. BLT is involved in a years' long internal project utilizing their product, so we attended the event to mingle with other users and learn how to test the limits of their software. We definitely put their product through its paces and take it beyond its intended capabilities. But then… that's what we do.
 We came away with some great information.
Let's Explore Together
Are you planning on attending the SATShow or GOMACTech next year and want to meet up? Do you attend or run another event you'd like BLT to present at or attend? Reach out and let's make plans for fall of 2022 and beyond.