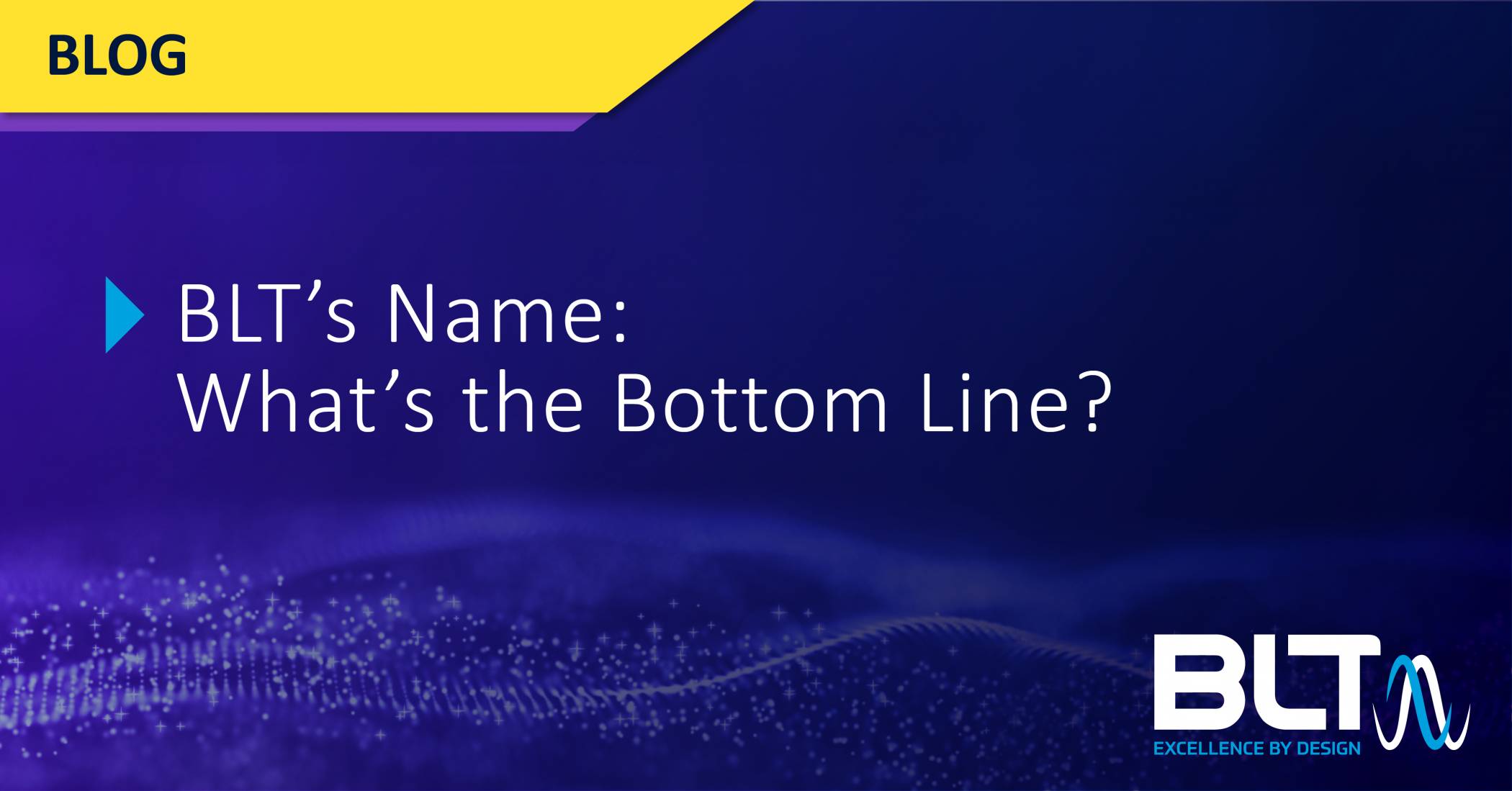 We're BLT. And That's the Bottom Line.
What's in a name? Well, for a legal business entity, lots. So it's important that we—and you, our Clients, partners and prospects—are clear about who BLT is.
The Beginning: Bottom Line Technologies
BLT was founded as Bottom Line Technologies, Inc. in 1989. Our president, Ed McCauley, held BLT to rigorous standards of technical achievement and client service, expecting that our designs would be on spec, on time and on budget.
Far from being just about the final bill, the "Bottom Line" in our name was a promise that the goals of our Clients and BLT are best achieved when designs are done well, promptly and cost-efficiently. We really do offer the most cost-effective and fast design capabilities available, and our wide range of repeat customers and referrals is a testament to that fact.
The Rebranding: Becoming BLT
In 2019, Bottom Line Technologies initiated a major rebranding. Like so many iconic companies before us (IBM and 3M come to mind), we embraced the initials that had become our de facto identity, formally changing our name in the marketplace to BLT.
After pioneering so many landmark designs—from the HDTV prototype and satellite radio to devices that went to Mars—and setting the world's standard for outstanding Xilinx training, we have grown by leaps and bounds, and our new branding is a conscious acknowledgement of our evolution. We never forget about the bottom line—that's part of our DNA—but our focus is on the horizons ahead.
Who We're Not: Bottomline Technologies
Our name change also prevents us from being confused with another company, Bottomline Technologies, Inc. (Note the lack of a space.) Based out of Portsmouth, NH, Bottomline Technologies works to streamline business payment processes. Like us, it was also founded in 1989, and while we have very different business models and client bases, in our increasingly connected world, some confusion has been unavoidable.
That's why it's important to refer to BLT only by our current, proper ID—and if you have a reason to refer to our previous name, remember to include the space!
The Bottom Line About BLT
The bottom line is…we're now BLT. Have any more questions about our rebranding and identity? Please contact us. Want to see our new name on our building? This blog post from the holiday shows it off in festive spirit. And be sure to bookmark https://bltinc.com/blog/ for all the latest news from BLT.